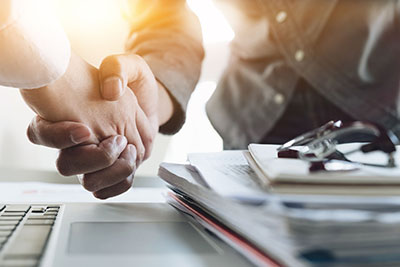 Thank you for your interest in Unifax Insurance Systems. Our Mission is to provide highly specialized commercial insurance products, with outstanding integrity, value, and peace-of-mind for America's business owners, agents, and brokers.
If you want to discuss contracting, please complete all listed documents below and email us at info@unifaxinsurance.com. A Unifax representative will contact you to further discuss the details of your agency operation and what opportunities are available to help determine if a partnership will be mutually beneficial.
Please note that no coverage will be bound automatically or with agents/brokers or general agents who are not contracted with us. Coverage is not effective until it is confirmed in writing by us or one of our general agents.
Producer Application – complete, sign and email
Agreement with Producer – complete, sign and email
Provide a copy of your current Property & Casualty insurance license
Provide a copy of your Broker's Bond, currently on file with the State Department of Insurance, Commissioner's office (California only)
Provide a copy of your Errors & Omissions ("E&O") coverage
IRS Tax Form W-9 – complete, sign and email
NOTE: Most transactions are conducted on a "brokerage" basis. However, if you would like to become an agent of Unifax, please contact us.